ZEP HENDRIX BEATLES ELVIS JERRY LEE. EDDIE COCRAN ROCK EMPORIUM
An incredible band, a tour de force which literally transformed the face and content of Rock and Roll. Here is the line up for this magnificent band. John Baldwin.aka John Paul Jones [ Bass, Keyboards, born January 3,1946] John "Bonzo" Bonham [Drums, Born May 31,1948-died September 25,1980] Robert Plant [Vocals, Born August 20, 1948] James Page [Guitar, Born January 9, 1944]. Both Jimmy Page and John Paul Jones were great musical aquaintances of mine doing mainly studio work in the early 60's. Along with Big Jim Sullivan, Vick Flick [James Bond Theme] we were the busiest guys on the session scene. Jimmy could play in all genres, rock, folk, but if Heavy Rock was required Jimmy was the guy to call. He wasn't afraid to turn the amplifier up, and although many of the orchestral players were averse to this, the Musical Directors were hip to the fact that you just couldn't make a guitar scream unless the volume was wound up. Jimmy was actually a rather shy guy, had a great crazy sense of humour and was always experimenting with new ways of improving that 'heavy' guitar sound, he was one of the first to use a Fuzz box [not "the first" as is commonly believed, I think Eric Ford was the first guy, another hard working session man] and I was using a fuzzbox aroud 65 -66 supplied by Brian Daly - another session wizard. Who cares. Jimmy was also an excellent finger picker, and was into folk, c&w, and a host of guitar styles.
John Paul Jones / Moretti Decca Studios
Source: "Play like Elvis" Mo Foster
Photo (c) Bill Price.
John and I were old Buddies from the Jet Harris, Tony Meehan days, and He, John Macloughlan and I entered the session scene at virtually the same time, our first tentative steps being taken at "Decca" studios in Broadhurst Gardens, North London. The session scene was an extremely lucrative one if you could stand the pace. We would do three sessions a day, five or six days a week to cram in the bucks, but it drained you, and there was always the danger of "Burn Out" - One had to play in just about every musical style. Talent and ability are like a piece of elastic, stretch it too far and it snaps. Jimmy and John saw this and made the wise move of getting out of sessions and so Zeppelin was born. I have it from no less an authority than John himself that the band rehearsed the material for their first album for a year, playing anywhere and everywhere they could, including the European Continent, so that when the time came to cut the first album they had all those numbers down. That's what stands out about that Album, it wasn't just a bunch of guys singing and playing any old how, every number was a performance, the routines mainly cut and dried but injected with the magical, fresh feel of spontaniety. Many established musicians have proved that you CAN play the same numbers time and time again. The magic is in bringing the feel of "Spontaniety" into each Performance. Jeff Beck was a great buddy of Jimmy's and I remember Jimmy turning up at Pye studios with a beautiful Telecaster which Jeff had given to him. The face of the guitar was covered in some kind of mirror substance and shone beautifully under the lights, and it could shout like a bitch.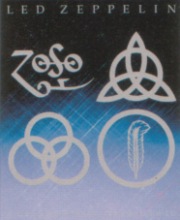 Jimmy and Big Jim were pioneers in using extremly thin gauge strings, the 1'st string being an .08. Guitar strings were not manufactured in that kind of gauge in those days, so banjo strings were used as I'sts and 2'nds which gave one the ability to bend a note up by a major 3'rd and even more. Jimmy backed up hundreds of Artists in his time, including Donovan, Them, The Who, The Kinks etc, and was the mainstay of the Yardbirds [1966-68] after Jeff Beck and Eric Clapton. Likewise John featured on records by Dusty Springfield, The Rolling Stones, Jeff Beck, and He was an excellent arranger and Musical Director, one of his most notable successes in that capacity being " Mellow Yellow" by Donovan, which featured John MacLoughlan and myself on rhythm guitars. This was recorded at Lansdowne Studios in Lansdowne Rd. Robert Plant and John Bonham hailed from Birmingham in the North of England. They had originally worked together in "The Band Of Joy". Zeppelin was formed in 1968 after Jimmy's stint with The Yardbirds. I was floored by Robert Plant's voice when I heard that 1'st LP. Likewise Bonzo's drumming. I'd never heard so much power coming from a Rock Band, not even The Who. Delta Blues, Folk music, and hard rock- these were the main ingredients of Zeppelins music, but they also incorporated Arabic and Indian influences into their music. If it works it works, They never put limits on their music, that's what made it so great - the sheer variety of musical ingredients. "Whole Lotta Love" was a real brain bender, and set the scene for what was to come. Controlled ferocity I call it, but Zeppelin could be extremely sensitive and gentle when those qualities were called for.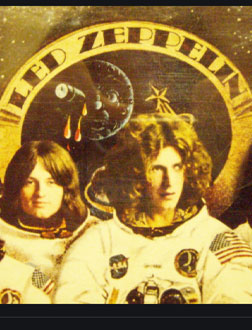 My wife Pina and I had the good fortune to see two of thair concerts in the UK, one at The Royal Albert Hall, and the other at Earl's court, both were mind blowers. Led Zeppelin disbanded in 1980 following the death of John Bonham due to asphyxiation after excessive alcohol consumption on September 25th of that year. It was a dreadful shame because they had so much more to offer the rock world. My one BIG criticism of Zeppelin is that, in my opinion, both John Paul Jones and John Bonham didn't get a fair crack of the whip when it came to publicity, or their fair share of camera shots, close-ups etc on their TV shows, nor did J.P.J. have enough of his compositions included on their L.P's, he's a wonderful sensitive musician and should have had a biggger slice of the cake. 95% of the credit went to Plant and Page and to my mind this just was not Kosher. However business is business. Zeppelin sold 84 MILLION units in their time, second only to the Beatles. "Led Zeppelin IV" sold 22 million copies, the fourth biggest selling Album in history. There are many sites on the Web giving in-depth Bios of the band and a full list of of their recordings. Check them out. One last but extremely important point. Peter Grant -their manager, was invaluable in the promotion of the band's interests, a point which is rarely mentioned. A beautiful guy, a real gentle giant. I first met Peter around 1961-62 when I was with Johnny Duncan and the Blue Grass Boys. He was our driver ! Led Zeppelin were inducted into the Rock and Roll Hall of Fame on January 12, 1995. Aerosmith's Joe Perry and Steven Tyler were their presenters.
God bless the memory of John Bonham. (c)Joe Moretti April 2002.
all articles (c) JoeMoretti music International
ALL RIGHTS RESERVED.
---
---